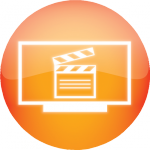 UR-Channel elevates customer experience in the new Yonge + Rich condo project sales center for Great Gulf Homes
Toronto, ON - Great Gulf Homes recently launched its sales center for their new Yonge + Rich condominium project in downtown Toronto. UR-Channel deployed its video wall solution to the space creating a digital statement piece contributing to the ambience's distinctive style and "sense of arrival" experience for Great Gulf's customers.
Featuring 16 ultra-thin bezel screens in a 4 x 4 configuration, the video wall depicts 3-D renderings of the Yonge + Rich project itself, allowing prospective owners to imagine themselves residing in their new condo suite. Combined with breathtaking, panoramic shots representing the scenic views of the iconic Toronto skyline awaiting a purchaser, the video wall captures the true sense of luxury and excitement of living at the center of downtown Toronto.
With their "Full Circle Approach," UR-Channel has provided Great Gulf with a genuine end-to-end solution from equipment, design, engineering and installation to content delivery, technical support and monitoring.
Great Gulf's Sales & Marketing Coordinator, Sally Wong stated, "Great Gulf received great support with our video wall. We appreciate that the UR Channel team is always on-hand and responsive."
Jackie Staub, Director of Marketing, added that the displays "have worked out brilliantly!"