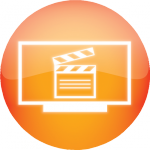 UR-Channel deploys Feature Video Wall for Fusion Homes' new HQ lobby
Toronto, ON – Fusion Homes recently opened a new head office in Guelph and unveiled a truly artistic digital signage project produced by UR-Channel Broadcast Company.
While searching for new and innovative ideas for their lobby, Fusion Homes' founder Lee Piccoli was looking for something cutting edge, fresh and unique for the new space. Mr. Piccoli was pointed in the direction of UR-Channel, by LG, to collaborate on a project that would add a "wow" factor to the company's reception area. Now, a seamless harmonized digital signage experience greets every customer as they enter the premises.
The Feature Wall content spans across three display zones throughout the entrance. Digital Living Art plays on individual screens and in synchronization between the zones. The entire project was produced by UR-Channel, from design, hardware, software and installation to customized content, which showcases Fusion Homes' projects as well as inspirational art.
Alicia Piccoli, senior executive of Project Management and Recruitment at Fusion Homes said, "It has been a really neat experience to partner with a team that can make an extraordinary vision come alive! Their rigor for quality, performance and exceptional customer care gives tremendous piece of mind knowing that as a part of the UR-Channel family, we are in trusted care while navigating through an unfamiliar space to our business."